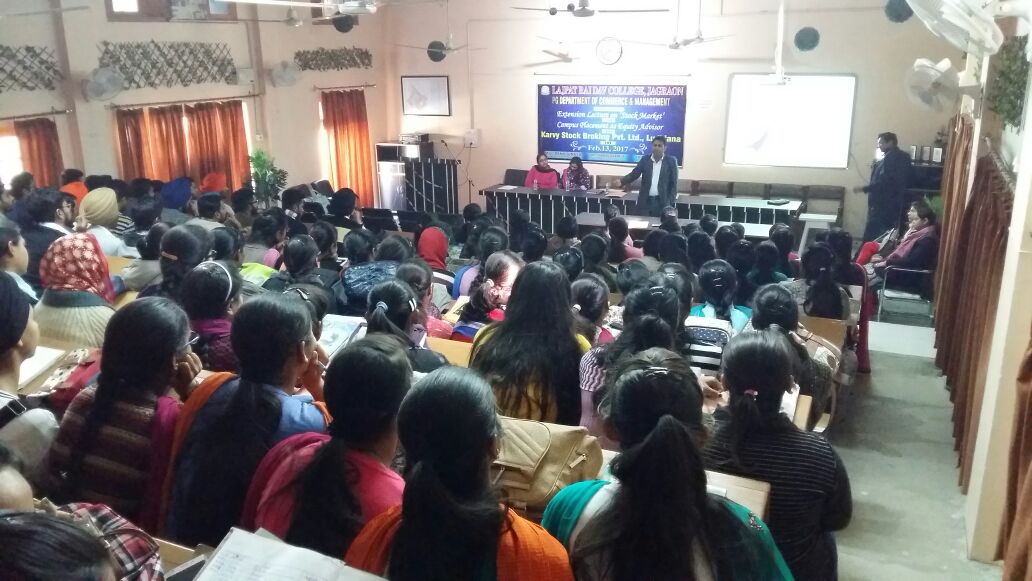 Extension Lecture on "Stock Market"and Campus Placement as equity advisors
Feb.13, 2017 (Jagraon): Under the able guidance of Principal (Dr.) Karan Sharma and vice Principal Prof. (Mrs.) Rekha Watts an extension lecture on "Stock Market" and Campus Placement for the post of Equity Advisor in Karvy Stock Broking, Pvt.Ltd Ludhiana was organized by Postgraduate Department of Commerce & Management and Career Counseeling & Guidance Cell in collaboration with Internal Quality Assurance Cell of Lajpat Rai DAV College, Jagraon on Feb.2017.
Mr.Gaurav Rakheja (Cluster Head) and Mr.Saurabh Goyal (Financial Analyst), both from Karvy Stock Broking Pvt.Ltd Ludhiana were the resource persons.
145 Students of M.Com., B.Com and BBA attended the lecture and were made aware about the 'Stock Market, IPOs, Indexes, NSE, BSE etc.The students gained quite useful knowledge from Mr Gaurav Rakheja's interactive and informative lecture on stock market. Prof.Arvinder kaur gave formal welcome to the guests and audience.
After the extension lecture Mr Gaurav Rakheja and Mr Saurabh Goyal conducted interview for the post of Equity Advisor.
38 students of M.Com 4th semester and B.Com 6th semester appeared for the interview. In the end the Resource Persons were appreciated with token of thanks.
It was a great experience for all the students.
The programme was attended by Mrs.Kalika Jain, Mrs.Pallavi Manik, Ms Surbhi Passi, Ms Surbhi Goel, Ms Arvinderpal Kaur, Ms Ruchi Wadhwa, Ms Preeti Jain and Ms Priya Malhan.
Vote of thanks was given by Prof. (Mrs.) Kalika Jain.